Fourth leg: from Sant'Agata Feltria to Balze of Verghereto
-> next leg: from Balze to La Verna
<- previous leg: from San Leo to Sant'Agata Feltria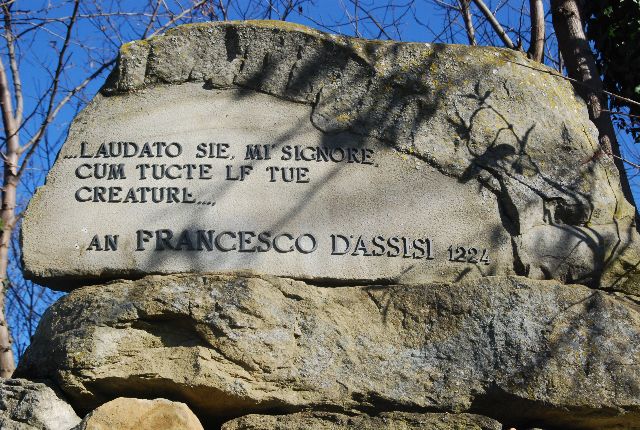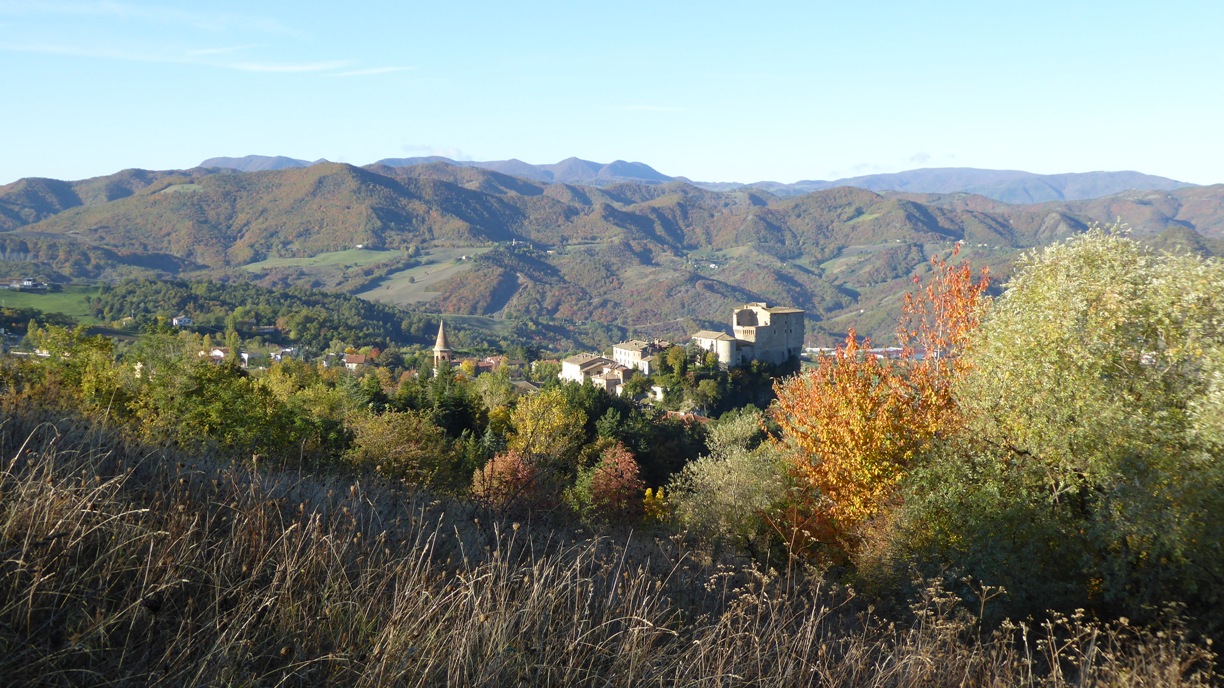 After Sant'Agata Feltria we return in Valmarecchia, on the highest part of the valley, where the landscape changes radically, from a bucolic and rural setting to a mountainous place, typical of the Apennines. The stage is carried out mostly on small roads gravel and paved roads with little traffic which make the journey faster with a wonderful landscape.
The first part coincides with the path "Frate Francesco in Sant'Agata Feltria" which follows through from the site with the ruins of the Convent of St. Francis of the Plans, shortly after which the road ends at Ca' Abate (dogs, for those who walk the path with their dog IT IS RECOMMENDED to start the stage by taking Via S. Girolamo and following the provincial road that leads from Sant'Agata to Pereto, thus avoiding the passage to Ca l'Abate; this variant rejoins the main route a few kilometers further on), where you continue to the right on a road for vehicles  leading to paved road from Sant'Agata to where crosses the point between Valle del Savio and Marecchia.
Turn right following the signs for Palazzo. After passing the detour to Rivolpaio-Poggio Scavolo, take the uphill path on the right that enters the wood (route chart). Following the signs, you reach the gravel road that climbs up from the Palazzo and take it to the right towards Balze, ignoring forks and detours. After the Madonna del Piano chapel, about 3 km you reach the provincial road Alfero - Balze.
To the right you will come to a crossroads, where you turn left onto the small road that reaches the car park below the Hermitage of Sant'Alberico.
(Option B recommended in case of delay or bad weather: take the road on the left in about 3.5 km. It leads to Balze).
From the car park under the hermitage, we take a steep climb a paved driveway, lined by Via Crucis stop, and within minutes the hermitage of Sant'Alberico. Its presence has been documented since 1043 and, according to ancient tradition, was founded by Saint Romuald.
Continuing in the woods at the bottom of the valley, first on a beautiful trail lined for a stretch of Stations of the Cross; Then on a beautiful stone street, called "Via Grand Ducal" because built by Grand Duke Leopold II of Tuscany for a grace received, you reach the town of Balze.
Download track 4th leg GPX format
Distance: 21.9 km
Height difference: +1282 m, -776 m
Distance: from Sant'Agata in Balze 7 h 30 '; from Balze to Sant'Agata 6 h 45 '
HOSPITALITY
in Fragheto, lungo il percorso:
 Casa Fragheto, 348 7036467, 

This email address is being protected from spambots. You need JavaScript enabled to view it.
in Balze di Verghereto:
Albergo Bellavista, +39 0543 906630, 

This email address is being protected from spambots. You need JavaScript enabled to view it.

;
Fumaiolo Paradise Hotel, +39 0543 917785, 

This email address is being protected from spambots. You need JavaScript enabled to view it.

, www.fumaioloparadisehotel.it, (on Monte Fumaiolo Pass, with shuttle transfer);

Restaurant and tipical foods "Balze Ghiotte", +39 0543 906637
TOUR OPERATORS
APPENNINO SLOW, 379 1528959 - 339 8283383, This email address is being protected from spambots. You need JavaScript enabled to view it.
FRANCESCO'S WAYS, 370 1106929, This email address is being protected from spambots. You need JavaScript enabled to view it.