Home
Hits: 427
Acquistabile anche online sul sito de L'escursionista editore
La seconda edizione presenta novità di rilievo nell'impostazione del Cammino, nuovi percorsi e servizi.
Nella prima parte si trovano indicazioni utili per organizzare il viaggio e un excursus storico sui passaggi di San Francesco in Valmarecchia. La parte centrale, ampiamente modificata rispetto all'edizione precedente, descrive il Cammino di San Francesco da Rimini a La Verna con aggiornamenti, nuovi collegamenti e i tracciati per mountain bike.
In ogni tappa, la descrizione del percorso è completata da schede storiche sui luoghi francescani e altre che presentano le principali attrattive dei borghi nei quali si transita.
Le ultime pagine riportano un elenco piuttosto dettagliato di servizi: trasporto bagagli; noleggio bici e assistenza ai ciclisti; trasporto pubblico; ricettività e ristorazione.
Hits: 2935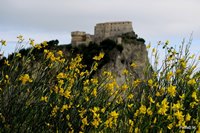 "Per me è stata un'esperienza molto bella ... 
la Romagna è davvero una terra da scoprire: colline splendide che non hanno nulla da invidiare alle famose "cugine" toscane ...
Hits: 3252
Pellegrinaggio sul Cammino di San Francesco da Rimini al Convento di Santa Croce di Villa Verucchio Domenica 2 agosto 2020
Il 2 agosto, Festa del perdono di Assisi, siamo andati in pellegrinaggio lungo il cammino di San Francesco da Rimini al convento di Santa Croce a Villa Verucchio. Alle cinque siamo partiti dal Duomo di Rimini (dove sorgeva l'antica chiesa di San Francesco). Alcuni soci de L'Umana Dimora, qualche nuovo amico, tra cui Thomas Zanon venuto appositamente da Verucchio, accompagnati da Alessia, bravissima guida del cammino. Il cielo, illuminato da scariche elettriche continue, minacciava temporali imprevisti che ci hanno risparmiato, producendo violenti scrosci a poca distanza. Al Santuario delle Grazie abbiamo trovato inaspettatamente la chiesa già aperta dove abbiamo recitato l'Angelus. Dopo una sosta al bar di Vergiano per la colazione, arrivati sulle sponde del Marecchia abbiamo incontrato un gruppo di giovani pellegrini toscani guidati da Don Renato Barbieri, con il quale ci eravamo sentiti per la preparazione del loro cammino, che hanno effettuato da La Verna a Rimini. Ci siamo lasciati con un caloroso saluto, come ci si fosse frequentati per tanto tempo. Verso le 10 le innocue nuvole che ci riparavano dal sole sono svanite e la calura ha iniziato a farsi sentire. Ma il passo era sostenuto e alle undici eravamo al convento. Una veloce rinfrescata per togliere il sudore; la confessione da parte di molti e la partecipazione di tutti alla Messa. Poi la foto sotto il Cipresso di San Francesco con Stefania Sabba, Sindaco di Verucchio che ha proposto questa iniziativa e con Padre Bruno, Guardiano del convento. Conclusione nel rispetto della tradizione del 2 agosto verucchiese pasteggiando con trippa e birra. Di nostro abbiamo aggiunto qualche canto di montagna e della tradizione romagnola. E' stato l'anno 0: arrivederci al 2 agosto 2021!!
---
"Fratelli miei, voglio mandarvi tutti in Paradiso!". Così il 2 agosto 1216 Francesco accolse il popolo convenuto alla Porziuncola per ottenere il perdono di tutte le colpe, come il Santo aveva chiesto a Dio e ottenuto da Papa Onorio III. In occasione della festa del Perdono di Assisi che ricorda questo evento, proponiamo un pellegrinaggio sulla prima tappa del Cammino di San Francesco verso La Verna. Dal duomo di Rimini arriveremo a Villa Verucchio, passando dal Santuario delle Grazie sul colle di Covignano, a Vergiano dove si ricorda il passaggio del Santo. Lungo il percorso naturalistico del Marecchia giungeremo al parco di Villa Verucchio, raggiungendo poi il convento dei Francescani. All'arrivo, per chiunque vorrà, è prevista la partecipazione alle celebrazioni religiose (S. Messa e confessioni). A seguire un momento di ristoro con servizio street food nel parco sottostante il convento, dove. Prenotazione obbligatoria
Ore 4:45 Ritrovo davanti al Duomo di Rimini e inizio pellegrinaggio.

Ore 11.30 Convento di Santa Croce, partecipazione alla Santa Messa - fino alle 12 i frati sono a disposizione per le confessioni.

A seguire Ristoro street food (a pagamento) Rientro libero a Rimini con mezzi propri o con bus di linea (ulteriori informazioni ai partecipanti).
Note tecniche
Il percorso si svolge in parte su viabilità minore asfaltata e, prevalentemente, sul percorso naturalistico lungo il fiume Marecchia. -
Distanza: 23 km; tempo percorrenza: 6h00'; difficoltà: T

E' necessario un abbigliamento adeguato al clima del periodo, scarpe comode e copricapo per il sole, scorta d'acqua.

Il pellegrinaggio si svolgerà anche in caso di pioggia. Nell'eventualità portare giacca impermeabile e indumenti di ricambio.
Nel rispetto delle norme anti contagio, ogni partecipante deve avere con sé la mascherina per l'ingresso nei luoghi chiusi e mantenere sempre le distanze evitando assembramenti.
Quota di partecipazione
€ 10.00 a persona che saranno interamente devoluti ai frati per le necessità del convento. La quota comprende il servizio di guida; non comprende pasto, mezzi di trasporto per il rientro e quant'altro non previsto.
Info e prenotazioni
Alessia Ghirardi Guida AIGAE - Tel. 348 4931843 - Prenotazione obbligatoria, con numero chiuso a 20 partecipanti
Hits: 5250
NEWS!
On Sunday 24 June the maintenance and installation of new tables on the St. Francis' Way - Rimini La Verna was completed. Link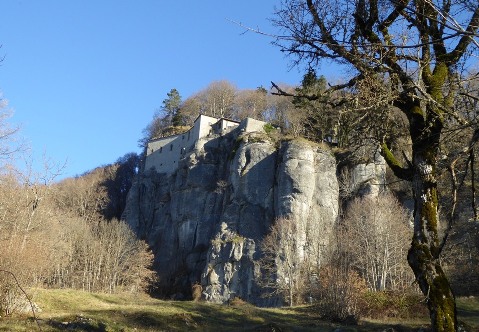 This trail was inaugurated in 2013 for the eight hundredth anniversary of the passing of Saint Francis through Valmarecchia and of the gift of Mount Verna, which happened in San Leo. This trail winds through a beautiful landscape, featuring the Marecchia River and steep cliffs topped with walled villages. The section of Apennines that connects Valmarecchia to La Verna is set deep in the mountains in the woods with long sections along the mountain ridges.
This route connects the main towns where Saint Francis's passing by is cited in either documents or supported by ancient traditions. In fact, Valmarecchia has always represented a borderland and, due to its being relatively easy to travel through, a "gateway" of communication among Central Italy, Rimini and Romagna. Also numerous Romei pilgrims crossed through it, coming from northern Italy and from towns east of Aquileia. So it should be no surprise that Saint Francis, in carrying out his "wandering ministry" took this route, probably more than once.
The "Considerazioni delle Stimmate", a Franciscan test from the 14th century, tells of when Saint Francis, in 1213, in the company of brother Leone, going towards Romagna, reached the castle of Montefeltro (the ancient name of San Leo) on May 8, the day when a soldier was being knighted. The Saint preached in the square in front of the people and nobles gathered there, among whom there was Orlando Catani, the count of Chiusi in the Casentino, who, touched by Francis's words, asked him for a personal meeting to reflect with him on saving his soul. At the end of this discussion, the count asked Francis to accept the gift of Mount Verna, which Saint Francis accepted. This meeting was thus the origin of the Franciscan establishment on Mount Verna, where the Saint received this Holy Stigmata and where the current Sanctuary was built. In memory of this visit, the city of San Leo inserted the figure of Saint Francis into their city coat of arms.
There are many signs that support the ancient traditions according to which, directly connected to Saint Francis's stops in Valmarecchia, many convents were established and miraculous episodes occurred. There is, for example, the convent of Sant'Igne, built in 1244 in the woods at the foot of the cliffs of San Leo. Then there is Villa Verucchio, where there is a giant cypress tree in the cloister that was supposedly planted by the Saint and has been studied by botanists due to its size and longevity. The settlements of the 13th century, of the Clarisse and the Frati Minori in the area of Sant'Agata Feltria, were, according to legend, started by the Saint during his journey, probably on his way to San Leo in May 1213. Also worth mentioning is the existence in these places of many witnesses of the Franciscan spirit, an example for everyone is Brother Matteo da Bascio, commonly recognized as the founder of the Capuchin order.
Saint Francis, having incarnated his witnessing of the Christian faith in a poor and simple life, in touch with people, was very loved and still is today. The presence of Franciscans in these lands is still common and the religious fervor that it invokes is still very much alive among locals. The Walk hopes to continue the tradition of helping pilgrims find their way, on foot, by mountain bike or on horseback, by walking in the footsteps through the places touched by the Saint and by the great witnesses of the Franciscan order that were established in these lands.
Saint Francis's Walk from Rimini to La Verna includes 5 legs for a total of 112 kilometers that wind through Emilia-Romagna and Tuscany, crossing through the valley of the river Marecchia in the lands of 10 municipalities in the provinces of Rimini, Forlì-Cesena and Arezzo. It is the northeastern gateway to Saint Francis's Way which, passing through Umbria and Lazio, goes to Rome.
The entire Rimini – Rome route is about 500 km long and can be walked in 26-27 days. It is described, with some common legs and some variations, in various guides and is summarized on the website of the Associazione L'Umana Dimora di Rimini that does the upkeep of this trail. It is marked with the yellow Franciscan symbol of the Tau (like all of the Saint Francis's Way up to Rome) which is in addition to the white and red CAI marks found along most of the route. Besides the main route, with a variation that will be open starting in spring 2017, all of the places of the Valmarecchia touched by the passage of Saint Francis or significant in some way in regards to Franciscan history in this area will be linked.
Acquista la guida del Cammino con la descrizione del percorso a piedi e in MTB, approfondimenti storico culturali sui luoghi visitati e cartografia 1:25000
I nostri partners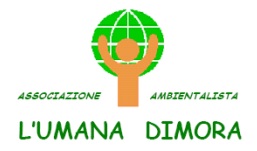 Sede di Rimini          www.umanadimorarimini.it

 https://camminiemiliaromagna.it/it/cammino/14-cammino_s_francesco_rimini_laverna 

Tel. 379 1528959 - 379 1497965
info@appenninoslow.it 
 www.appenninoslow.it/cammino-s-francesco-rimini-laverna
Appennino Slow  organizza, sia partenze in gruppo con servizi completi e date prestabilite, sia viaggi individuali con date a scelta e servizi a richiesta. Verifica le proposte per i prossimi mesi o chiedi informazioni a questo link