Fifth leg: from Balze of Verghereto to La Verna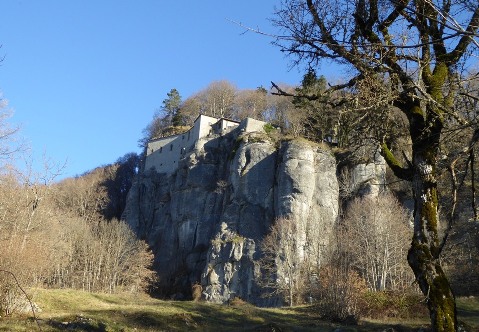 This is the most demanding stage. It proceeds almost exclusively on mountainous terrain, following forest paths and tracks. In the first part, in a continuous alternation of woods and meadows-pastures, we pass from Romagna into Tuscany, in a landscape that spans between the Marecchia, Savio and Upper Tiber Valleys. The long final stretch is surrounded by woodland, skirts the Upper Tiber Valley Nature Reserve and finally, enters the Casentino Forests National Park. Pilgrims are well-guided by the clear red and white CAI trail signs, along with signposts for the Way.
We advise anyone not staying overnight at the sanctuary to ensure they arrive at La Verna in time to follow one of the visits guided by the friars (which can be pre-booked) and still have time to spend in the place that was one of those dearest to Francis, perhaps even meeting the friars, the current custodians and witnesses of his charism.
CAUTION: After Montecoronaro (about 5 hours from La Verna), there is no water available. It is therefore essential to leave with a good supply.
Download track 5th legs GPX format
Distance: 22.7 km.
Height difference: +1258 m, -1225 m
Distance: From Balze to La Verna 7 h 30 '; from La Verna to Balze 7 h
RESTAURANT POINTS ALONG THE WAY
In Montecoronaro: Bar tel. +039 0543 902448; Foods Salvi Pierluigi tel. +039 0543 902751, Bar Il Mulino +039 333 2907334
ATTENTION: in Montecoronaro there are only these points, from here to La Verna it's take 5 hours.
HOSPITALITY
In La Verna a simple treatment is expected for pilgrims who visit St Francesco's places on foot, This email address is being protected from spambots. You need JavaScript enabled to view it. , +039 0575 5341 -  from 9,00a.m. to 5,00p.m.
For more informations: www.laverna.it 
OSTELLO GRANELLO DI SENAPE, Viale San Francesco, 1 - 52010 Chiusi della Verna
Tel. 0575 969697 - 334 9858667 - 337 1009851 - 

This email address is being protected from spambots. You need JavaScript enabled to view it.